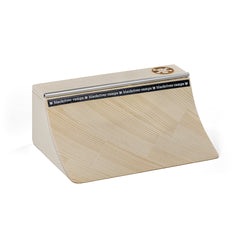 Blackriver Ramps Pocket Quarter
You have probably seen the "Pocket Quarter" appear in many videos; now we have it available for you in our webshop! This small version of a quarter pipe with a tighter radius fits in every backpack and is a REAL style piece. Whether you use it as a transition obstacle, or as a turning point in your street park, it is guaranteed to make your lines 120% more fun! Upgrade your collection and snag this gem today.
Länge:12cm, Breite: 20cm, Höhe: 7,5cm.